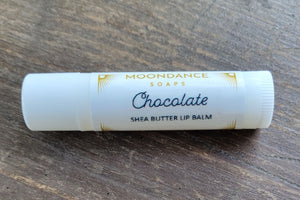 Chocolate Lip Balm - LIMITED TIME
Who doesn't love the taste of chocolate on their lips.

Our lip balm offers serious protection that not only moisturizes but also helps to heal and soothe dry, chapped lips. Our lip balms contain shea butter (with a natural SPF 15), sweet almond oil and Vitamin E. No petroleum based ingredients, no artificial colorants, no sweeteners or chemical preservatives. We offer you a lip balm containing only the highest quality natural ingredients. This product has a wonderful "glide" when applied, no stickiness or waxiness and it lasts a long, long time.
Ingredients: Sweet Almond Oil, Shea Butter, Beeswax, Vitamin E, Flavor Oil.