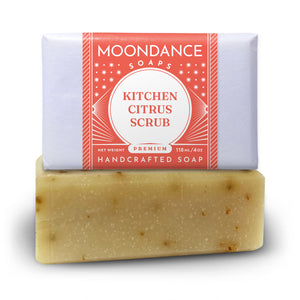 Kitchen Citrus Scrub Exfoliating Soap
Our Kitchen Citrus Scrub soap contains citrus essential oils that cut through odors (like onion or fish) making this a great soap to keep by the kitchen sink. We've added a bit of ground citrus peel and a touch of powder-fine sand to make this bar excellent for scrubbing. Additional moisturizing oils will help to soothe your skin.
Ingredients: Saponified oils of Coconut, Lard, Olive, Canola, Sweet Almond, Castor, Wheat Germ oil; Essential oils of sweet orange, lemon, grapefruit and lime; lemon and orange peel granules; fine ground pumice powder; rosemary oleoresin extract (a natural antioxidant).