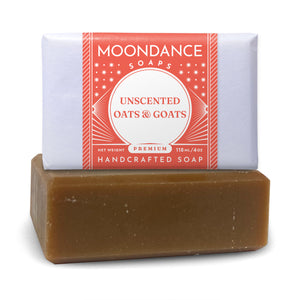 Unscented Oats & Goats
Our Unscented Oats & Goats is perfect for those looking for an Unscented traditional goats milk soap. Its mildness and purity make it a wonderful facial cleanser or bath soap for those with sensitive skin. Ground Oats are added to the bar for gentle exfoliation. This was an accidental creation by Rachel, who forgot to add the scented oils at the final step. The result….a fantastic unscented bar of scrubbing oatmeal goats milk soaps. Oh, and in case you're wondering, the goats providing the milk are from Prodigal Farm in Bahema, NC and are very happy!

Scrubbing Oats & Goats is one of our seasonal soaps, available in limited supply during the Spring and Summer.

Ingredients: Saponified oils of coconut, olive, RSPO certified sustainably harvested organic palm, canola, cocoa butter, shea butter, sweet almond, castor; stearic acid; rosemary oleoresin extract (a natural antioxidant) and goats milk.