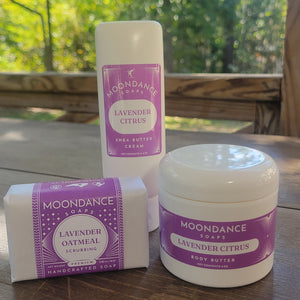 Fan Favorite - Lavender Bundle
I love lavender! The more the merrier for lavender lovers who want options for their personal care routine. 

Bundle includes:
1 - Lavender Citrus Body Butter
1 - Lavender Citrus Shea Butter Cream
1 - Lavender Oatmeal Handcrafted Soap
Please include any words you'd like to send in a personalized note in the checkout "notes" section.