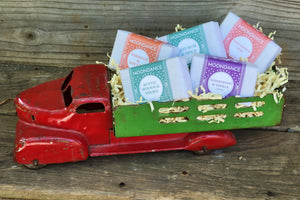 Manly Man Earth Scent Bundle
A manly man comes in many shapes and sizes. From the online gamer to the corporate warrior, from the firefighter to the stay-at-home dad.  Experience a collection of scents as unique as you are. Let's face it, they want to smell great too! Give him some options. (Oh, these are dreamy earth scents that are wildly popular with women too)
Bundle includes one bar each of:
Bay Rum & Spice - spicy with a hint of lime
Birchwood Oud - smooth & rich
Rustic Woods & Smoke - warm & complex
Sandalwood & Vanilla - woodsy with a mellow vanilla undertone
Tobacco & Bay Leaf - herbal & clean
Please include any words you'd like to send in a personalized note in the checkout "notes" section.
*truck not included, just a cute photo prop!!