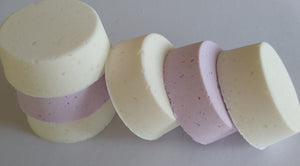 Bath Tabs (pack of 3)
Immerse yourself with our relaxing aromatherapy bath tablets, which will wash away the day's cares as they envelop you in fragrant delight.  Available in three blends.
Ingredients: Baking Soda, Cornstarch, Citric Acid, Epsom Salts, Buttermilk Powder, Jojoba Oil, Witch Hazel, Polysorbate 80, Essential Oils, Mica (in Relaxing Lavender).