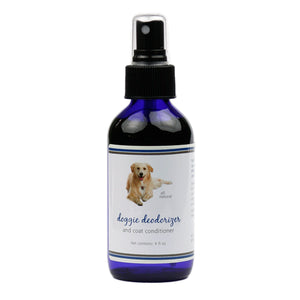 Doggie Deodorizer & Coat Conditioner
An all natural dog conditioner coat spray containing plant extracted essential oils that will help to remove odors from your dog's coat and ease the itching of hot spots and skin allergies. As an added benefit, many of these essential oils help to deter insects. This spray leaves your pet's coat shiny and smelling fresh!

Ingredients: Witch Hazel; Essential Oils of Sweet Orange, Lavender, Eucalyptus and Cedarwood.